SWABCHA is competent enough to provide services required by the workplaces in Swaziland. Companies can register and subscribe annually as members of SWABCHA as per the service packages of their choice. Services are also provided to non-members at a fee. In instances where a service is donor funded, that particular service will be provided at no cost by SWABCHA to those identified companies. Once a member, the organization is eligible to be elected as a board member thus being part of the governance structure of the private sectors response to HIV. Members are also invited to attend sector forums, management dialogues and policy workshops, thus becoming an active partner in the private sector response on HIV-AIDS and Employees Wellness Program.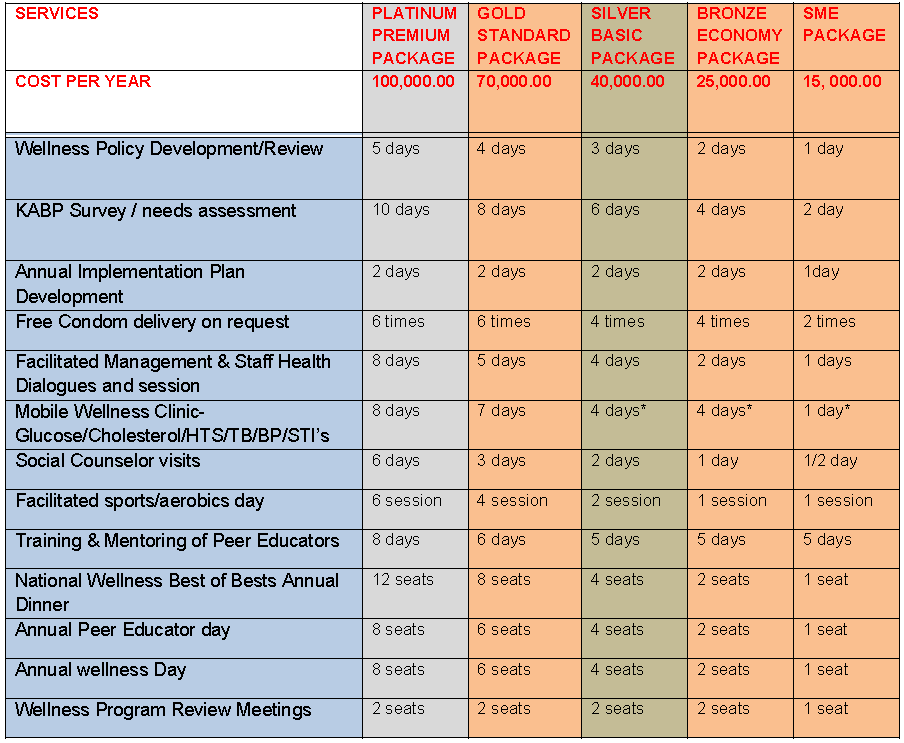 *Mobile Clinic does not include Glucose and Cholesterol for Basic, Economy & SME Packages
SWABCHA provides comprehensive packages for clients. These packages are based on the needs of the clients for which such determines the frequency of the Employees Wellness Program implementation. All services are given as per the number of days provided in the schedule of the package listings at no extra cost. Therefore the more frequent the program is required the more days are needed. A member in a package will have to prepare a venue for meetings, trainings and sessions scheduled. Meals will have to be provided by the member where necessary. Cholesterol and glucose screening services comes at a cost for the Bronze and silver packages. Arrangement can be made to adjust the services delivered to suit the client that is if certain services are not required in the current year of subscription. The membership is renewable annually and the membership year is as per the subscription date.
*currently we do not charge for Glucose as government is supplying the kits.